How can we help you?

Have a question about one of our products? Need help designing your chiller? Call or email us.
Contact Us
Legacy Chillers was able to design manufacture deliver and install a highly reliable, energy efficient chiller package to a remote Hawaiian Island. The three units have been in operation for nearly 8 years in a very corrosive environment and are still running strong. Legacy Chiller is an honest, highly technically competent refrigeration design and manufacturing company who sells solutions to refrigeration challenges from simple to complex. Whether it is one off or high volume, they deliver as promised.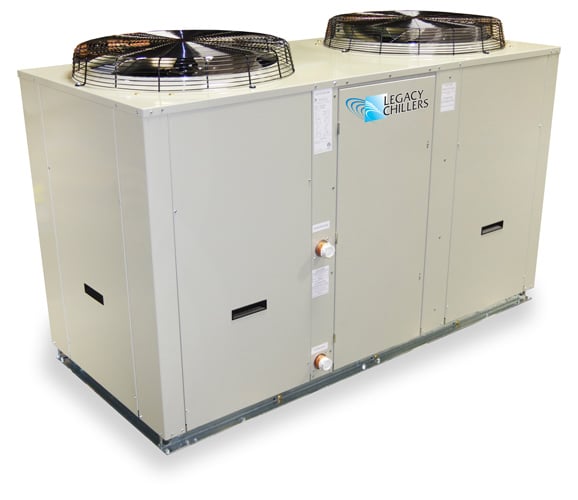 Package, Tankless Air-Cooled Process Chiller
Legacy Tankless PZA industrial grade process chillers are available in capacities from 1 to  60 TONS.
Legacy's PZA tankless line also features the IDEC industrial grade control architecture know Worldwide for its reliability and extraordinary functional design.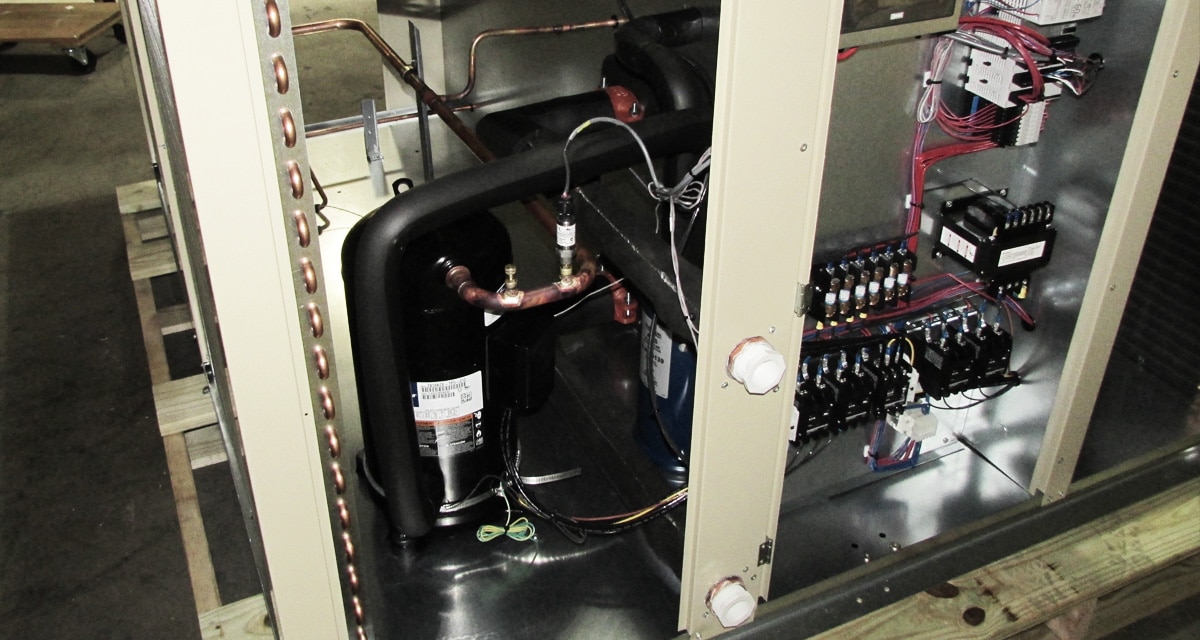 The Legacy Chiller Systems PZA tankless process chiller line is ideal for the following applications:
– Cooling customer fluid storage tanks
– Lab applications
– Induced hypothermia systems
– Lasers – military sector
– Laser – private sector
– Plating process
– Injection molding
– Commercial ice production
– Custom batch cooling.
Click here to view Standard Features
• MADE IN THE USA!
• ETL listed to UL1995 & CAN/CSA C22.2
No. 236-11, 4th edition, 10/14/2011
• Single point power connection
• Pentra Microsmart, Programmable Logic Controller
(PLC) with easy to use HMI touch screen display
• STAINLESS STEEL, brazed plate evaporator
• Scroll compressor with crankcase heater
• Suction accumulator
• Water flow switch
• Hot gas by-pass capacity control
• 24V control transformer
• Direct drive condenser fan motor
• Rust resistant, high CFM, aluminum
condenser fan blade
• Condenser(s): copper tube/aluminum fin
• Compressor motor contactor
• Condenser motor and control circuit fusing
• Painted (Powder Coated), galvanized
sheet metal cabinet
• 1/2" insulation on all water and
Low pressure refrigerant lines
• Liquid line drier, sight glass, solenoid,TXV
• Complete refrigerant charge from factory
• Factory Performance Test prior to shipment.
Click here to view Available Options
Remote Idec touchscreen control panel
• Industrial VPN Router
• 5 Port Ethernet Switch
• BacNet Gateway
• Process Pump VFD Controller
• VFD Compressor Control
• 4 year extended compressor warranty
• Casters (factory mounted)
• 115 volt (rain tight) service outlet
• Non Fused Disconnect
• Phase Monitor, line voltage monitor offering
protection against phase loss/reversal, unbalance
and High/Low voltage
• Compressor fusing
• Compressor Sound Cover
• Flooded cond. w/receiver/head pressure control (0°F)
• Heated, flooded cond. w/receiver/head pressure
Water flow meter control (-20°F)
• Dual process pump with auto changeover
• Pump suction isolation valve
• Water pressure gauge set
• Copper finned condenser coil (coastal protection)
• Coastal powder coat paint protection
• E-Coat Condenser Coil (coastal protection)
• Water Flow Meter
• Auto city water changeover panel with filter
• Stainless steel, SCH80 PVC or Polypropylene piping
for deionize and reverse osmosis water systems
• Door Mounted HMI with weather proof cover